Sme Economy Conference And Awards 3.0 (Tech | Governance | Funding)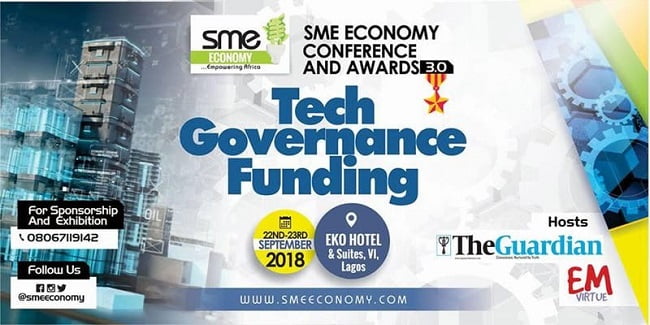 TECH GOVERNANCE FUNDING

The time is NOW. The 2018 SME Economy Conference is the biggest of them all to hold at the prestigeous EKO HOTEL, Lagos. A two days event that will gather business owners, innovators, stakeholders, corporate Nigeria, the media, Government, international community, idea hunters, investors and much more. Day 1, will be Conference, Exhibition, product unveiling, tech sessions, business pitching, networking and live market. Day 2, will be the BIGGEST SME AWARD in AFRICA. For the first time, SME Award winners will receive an endowment fund of ONE MILLION NAIRA to reinvest in their businesses. Announcement for entry will be on all platforms. Entry will be on www.smeeconomy.com.
We are happy to announce that GUARDIAN NEWSPAPER is our co-host. This guarantees massive media mileage acrossboard. For enquiry on sponsorship, call or whatsapp 08067119142. You can also choose to sponsor any of the award categories. Kindly request fort the Award brochure. WE WELCOME CORPORATE, GOVERNEMNT AND INDIVIDUAL PARTNERSHIPS.
Our time is NOW, we will together build Africa of our dreams.
Visit www.smeeconomy.com for more.